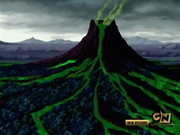 See the Ben 10 Planet page for accurate info.
Noah 10
In Noah 10, Noah created Primus, rather than Azmuth. And, unlike Azmuth's Primus, the Codon Stream stores the DNA of over 20,000,000,000 life forms and counting, which are connected to the Omnitrix and its successors.. Other than that, it is the same as the original Primus.
Knights of the Sword
Primus will appear in a few episodes.
Appearances
Ben 10: Super Omniverse
Ben 10: Omnitrix Unlimited
Ben 10: The Omniwars