"I know I look stupid, but give me a break. *RAABAHK!!!*"-
PlanetDactyl is Alex's (AL 12's) Galilean and Astrodactyl's Species Fusion Hybrid Form.
He can only be created from the Biomnitrix.
Appearance
His appearance is a mix of Gravattack and Astrodactyl.
A rocky humanoid pteranodon with spikes on his arms and shoulders with a red core on his stomach and a V-shape mark on his chest. There's goggle-like rock points on his forehead on top of the eyes.
Personality
Same as Alex's personality.
Powers
Gravity Powers
-Orbit
Flight
Spikes
Lasers
-Laser Beam
-Whips
Weaknesses
Off Balance.
Core breaks and blows him up along with anyone 20 miles away.
Blinded.
Wings pinned down.
History
(Alienverse)
Quotes
"EAT LASER BEAM SUCKER!!!" *SQUAWK*
Trivia
He is based from Gravadactyl. A unused concept art character that never was used on Ben 10 Omniverse.
.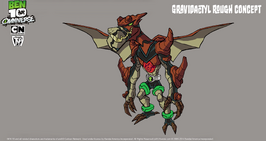 Community content is available under
CC-BY-SA
unless otherwise noted.