Plaguer is a villain in Den -10. He was sucked into a crack and reached Thrae and made the plagues there. He has ten modes: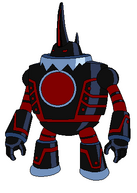 Blood: He can make any liquid turn into blood, and control blood.
Frogs: He is a giant frog and has frog powers. He can also shoot frogs from his mouth.
Gnats: ???
Wild Beasts: He can turn into any beast, and duplicate.
Pestilence: ???
Boils: ???
Hail: He controls the weather, and shoots deadly hail with fireballs in them.
Locusts: ???
Darkness: He creates darkness, and he controls darkness.
Death of Firstborn: He can make anything first in any way dissappear (e.g. first type of car, first laser beam shot at him).