Pie Guy
General Information
Species
Piepastrian
Home World
Piepastria
Body
Pie Tin
Powers and Abilities
Abilities
Shooting different flavors of pie, Transforming into different types of pie
Details
First Appearance
Pigantic
Pie Guy
is a Piepastrian from Piepastria in
Ben 10: Stupidity Force
,
Epic Tyran
, and
Evan Billion: F.I.N.D. Adventure
.
Powers
Shooting flavors of pie
Turning into different types of pie (Slice, Cream and other flavored pie)
Making pie portals
Weaknesses
DELICIOUS
Sometimes if he's hungry he will eat himself
CLOWNS (They throw pies, man!)
Muffinmonster (his predator)
Piegantic
Piegantic is Pie Guy's ultimate form. He now has darker limbs, a head lighter than the limbs, suction cups for hands and a indestructible glass dome protecting his head. He is also GIGANTIC.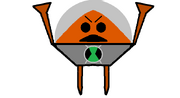 Powers
All of Pie Guy's powers, and:
Shooting cosmic rays of flavor and whipped cream
HE'S FUDGING HUGE
His glass dome can't be destroyed.
His legs are spiky and he can merge them together to use them as a weapon
He can suck flavor out of food and convert it into power
HE CAN TURN INTO ANY PASTRY
Weaknesses
His limbs can still be eaten (though it would take a loooonnnggg time)
Community content is available under
CC-BY-SA
unless otherwise noted.