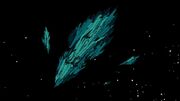 Petropia is the home planet of Diamondhead's species, the Petrosapiens. It is a craggy, geode-like planet. The planet is guarded by Sugilite.
Landscape
For thousands of years, Petrosapiens built kingdoms inside the planet. The vast kingdoms fought each other constantly, ending when a hole was torn in the sky- revealing an even more vast universe.
History
Petropia was destroyed by Vilgax using the Petropia Back-up Crystal, which was sold to him by a young Tetrax Shard. The planet was later restored using the same crystal by Tetrax, Sugilite, and Ben Tennyson as Diamondhead.
Notable Inhabitants
In Series
Ben 10: The Omniverse Wars
Petropia is a planet in the Light Region of the Omniverse in Ben 10: The Omniverse Wars.
Traxel Shard, a character from Ben 10: Alien Universe, is a Petrosapien-Human hybrid born and raised mostly on Petropia.
Ben 10: Infinity
There will be a new villain from Petropia named Crystal, who is the best bounty hunter ever.
Planetary Voyage
Petropia is one of the many planets visited by Evfnye.