Peter 14 is a series by Speedy with one season about a boy who discovers he is a Petrosapian/Crystalsapian, which his nickname is Petro since his name is the shortened version of Petrosapian. He discovers;lies,secrets, and his TRUE origin.
No. He does not use a Omnitrix.
And he's still in his diamondhead form for the rest of the series.
Supporting Characters
Main characters
Minor Characters
Mrs Aubry Mickinson
Mr Buzz Mickinson
Brizzie Mickinson
Mrs Dough (The Social Studies Teacher,retired)
Mister firehydrant dog
Villians
Spikeball
Season 1- "14 reasons, I mean 12 reasons why I hate about life itself"
Reason 1: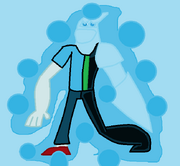 You can't prank newspeople
Reason 2: Parents are never honest
Reason 3: Mistreated
Reason 4: Dog+Firehyrant=Yougetit
Reason 5: People are idiots
Reason 6: Acceptence is slow as a freak
Reason 7: Games are always interupted in disasters
Reason 8: Things are fabricated when its not neded
Reason 9: Nothing is what it seems to be
Reason 10:  I can't say no to dogs or cats
Reason 11: SPIDERS eech
Reason 12: Spikeball,just him
Movies
Peter 14: The Unbelievable Boyfriend of Sophie
Themesong
Peter's not your ordinary kid,
He's;
half Petrosapian,
Half Crystalsapian,
PETER 14~!
No,
he does not wield a Omnitrix,
Cause he's got 14 reasons to dislike life!
P--E--E-PETER 14!
Some people call him;
Petaa,
Petro,
and Petriee!
He can  make his body skinny or bulky,
including a  Transportation ve—hhei—iclle!
PETER 14!
He's on his way,
to showing that you don't need trixes,
to save the day,
Because it's what he does that saves 'em all!'
PETER 14!
Fanlist
Sign using the four '~' if you are a fan of the series.
GIVE UP, STOLEN PLUMBER SHIP! YOU CAN'T ESCAPE FROM RATH! YAAH! (The ship begins to crash) CRASHING'S GOOD TOO! RATH CAN CRASH ALL DAY!! (Rath falls down) NOW YOU'RE USING GRAVITY!! WELL FORGET IT! YOU CAN'T BEAT RAA.. (slams into ground) 16:16, October 15, 2012 (UTC)
Red, Ethan, Brendan, Lucas, Hilbert, Nate, now, it's time for CALEM!!! (Wall - Blog - Contribs) 19:51, July 16, 2013 (UTC)
Trivia
Peter 14 is NOT be a part of the Cassie 12 Franchise.
The Writer has revealed some strange event occurs that splits it away from another universe the series was somehow entertwined in one of the episodes.
On 7/16/2013 it was announced Peter 14 will have one season.
Peter 14 ended on Episode 12.
Community content is available under
CC-BY-SA
unless otherwise noted.