Overflow is a mechanical alien in Jake 13 & BTUAM. He is one of Jake's original 13 aliens.
Appearance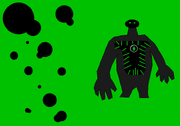 Overflow looks like a fat, mechanical alien.
Powers
Overflow can become liquid as Upgrade does or he can make just his feet into a puddle. He can multiply his arms and fingers and hack into anything mechanical. He also has limited super strength and regeneration.
Weaknesses
Like Upgrade, Overflow is weak against electricity.
Trivia
Overflow's idea was created when the creator was in a math class and his iPad's calculator application said "Overflow" of information
Community content is available under
CC-BY-SA
unless otherwise noted.