This is the version of Otto that appears on Earth-68, the universe owned by Dioga beta. It appears in the John Smith 10 franchise, Ryder 10 and Jane Smith 10.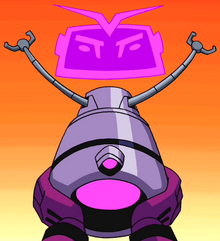 Otto appears once, leading the Violet Offenders. He takes control a Transformer like robot to attack. After he unintentionally destroys John's car, John beats him up.
Otto appears as a hired hand for the SACT. He teams up with Lucky Girl to try to capture Ryder at Fort Knox. He and the Violet Offenders escape. They are later chased down and arrested.
Otto first appears as a prisoner in the Null Void. He convinces Jane and Argit to collect pieces of tech to help them escape, but he leaves Jane and Argit behind when they succeed.
Ryder 10
Secondary Enemies
Bounty Hunters (Kraab, Goyle, Sixsix, Sevenseven, Eighteight, Vreedle Brothers) | Vulkanus (Crabdozer) | Seebik | Psyphon's Gang | Dr. Animo | Zs'Skayr's Followers (Viktor, Yenaldooshi, Mummy | Dr. Psychobos | Road Crew (Baron Highway, Road Rage, Fistrick, Corvo) | Spark Plug | Esoterica | Lucubra | Incurseans (Milleous, Jorgen Von Strangle)
Omnitrixes
Omnitrix | Nemetrix | Ultimatrix
Community content is available under
CC-BY-SA
unless otherwise noted.