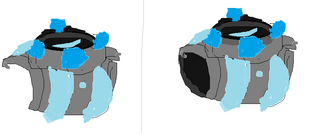 This is a oceanic based water version of the
Omnitrix
Gerenal Information
The Omnidewtrix is the counterpart of the Omnitrix, this one is able to give it's host water versions of aliens by Azmunth. It contains tubes holding water partcilures under the lid supporting the function to make certain aliens into their water counter-parts.
So the water partcilures going through the tubes come in handy, because during the slot of time the host is able to do stuff in the alien mode that it would not be able to do without water. The trademark to it's symbol is a water tear drop.
It is pronounced Om-nid-wet-rix, but some Aliens prefer making a page under the name "Omnidewtrix'.
If you are all thinking: "The Omnitrix has Tennyson DNA, why would it be on another unrelated girls's wrist?"
Here's the Question to THAT question: "what if there wasn't any DNA in the Omnidewtrix linked to the Tennysons?"
Omnidewtrix users
Scanning
Sometimes the Omnidewtrix obtains a new Alien through being scratched, OR, it sends out a big streak of yellow light towards a unscanned Alien to collect DNA.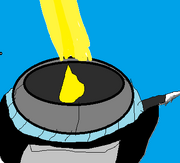 from a far distence.
IF the Alien being used has been struck by a unscanned Alien, the Watch will collect the DNA while going around in circles and glowing yellow on the first ring while fetching the DNA.. The gray part would become yellow after the DNA has been fullly collected
Omniverse version (Teenager version)
This is what the Omnidewtrix may appear if it's replaced with a newer version of itself:
Original 12
6.LadyArms ,
7.Seagrade
10.OilSpill
11.Orcea Bat
12. Woat
Extra Aliens
Community content is available under
CC-BY-SA
unless otherwise noted.