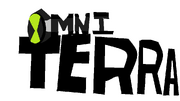 OmniTerra is a new series by ISM that is based on SlugTerra. Vote for Season 2 features here .
The Chat Game tab may be hard to edit. If so, click this .
Summary
Join Ash Trenton as he  battles to save OmniTerra from Dr Nega and his minions. OmniTerra is an underground city home to the Omnis, baby alien DNA that when shot through a Shooter, transform into powerful aliens. Dr Nega is a evil doctor, who does the exact opposite of healing to Omnis. He kills them and rewrites their Omnitrix DNA, morphing them into Negas, aliens from Albedo's Ultimatrix, which is unfunctional.
Omni-Fans
Stick (The Awesome Friend) 
SyabilYusoff16 (Wall - Blog - Contribs) 07:41, July 19, 2013 (UTC)

ScareWolf

(The Original Cool dude)
--Mark Twelven 09:47, July 20, 2013 (UTC)
King X (Talk to Ren here! - Check out my blog NAO - Contribs) 18:04, July 23, 2013 (UTC)
Characters
Omni-Team
Susan Klozz
Gorno Dean (temporarily)
Allies
Mr Shane Klozz
Charlie Dean
William Trenton
Villains
Dr Nega
Negabot King

Negabot
Negabot Guard

Nega Knight
Episodes
Season 1
Season 2
Confirmations
Note: You WILL have to read the episodes to decide this.

Fordd will not have a girlfriend.
Dr Nega will appear in the season finale of Season 1.
In the upcoming prequel, the story will be split into three parts.

According to a poll, OmniTerra is EPIC.