"NU! CLE! AR! Boom, mimic NRG's catchphrase."-Nuclear.
Alex's (AL 12's) Prypiatosian-B form.
Appearance
Shares the same appearance as NRG.
A pure-radioactive entity inside a bulked tank-like metallic body.
Personality
Shares the same personality with Alex.
As Eden: He is a overconfident, self righteous, egomaniac who fears no one who challenge him. He only cares about himself and down talk others due to believing himself to be more superior than others.
Powers
Radiation
-Energy Beams
-Radiation Immunity
-Radioactive Spit
-Heat
-Fire
-Lava
-Energy Eating
-Light Generation
-Radioactive Eye Beams
Flight
Durability
Hot and Cold Immunity
Intangibility
-Armor-
Strong
Heavy
Overheating
Mind Control Immunity
Weaknesses
Since he is a nuclear entity
Since the armor is heavy, it's hard to move faster,
Disadvantages With Armor
-Ice
-Electricity
-Limits
-Blinded
History
(Alienverse)
Quotes
"I am like a tank. VERY HEAVY!! WITH STRONG BLAST!!!"
"WAIT!! If you remove the helmet, it'll be the end for Nuclear!" (Tetramands on top looked at Tetramand 2. Tetramand 2 nod his, with Tetramand 3 grind and starts to pull the helmet off. It was a success) (Nuclear fly out of the armor and starts to shoot the Tetramands). "Suckers!"
"I know I'm suppose to control my radiation. BUT THIS ARMOR IS SO USELESS!! Well not useless. BUT IT KEEPS HOLDING ME BACK!!!"
Eden
"I don't trust any of you! Either one of you, or better yet all of you, are just spies for the jailer."
"Who made you the leader?" "Not anymore! I'm in charge now!" "Like I said, I'm in charge now."
"TRAITOR!!"
Trivia
A lot of names for a radioactive alien to choose from.
I couldn't find a concept art of P'andor's true form so I used Armorless NRG from Ben 10 Omniverse.
.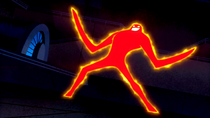 from AL 12 Ben 10 Fan Show.