Nemetrix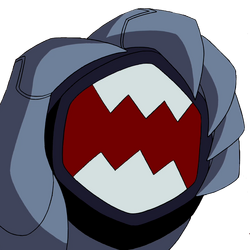 General Information
Details
The Nemesis Omnimatrix, better known as the Nemetrix, is a hexagon device created by Doctor Psychobos and used by Khyber's Anubian Baskurr to transform into predatory species of the Omnitrix 1.5 aliens.
Appearance
The Nemetrix has its Omniverse appearance, but it is colored a darker red.
Features
General
The Nemetrix can transform its user into at least 20 predatory species.
The Nemetrix has a quick change feature.
History
Appearances
Unknown
Trivia
Ben 10: Omnitrix Unlimited
Sapient Transformations
Dimension 999
Regular
Scream - Shredd - Slasher - Sludge
Non-Sapient Transformations
Dimension 1
Evolved
Ultimate Hypnotick - Ultimate Panuncian
Community content is available under
CC-BY-SA
unless otherwise noted.