NeOhm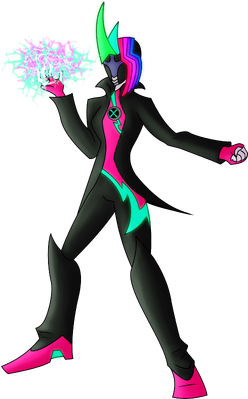 General Information
Species:
Plasnight
Home World:
Electrove
Body:
Neon Humanoid
Powers and Abilities
Abilities:
Plasma Manipulation
Electric Immunity
Details
Classification:
Fauna
Motif:
Neon Lights
Plasma
First Appearance:
TBA
NeOhm
is an alien from the series
Tech Cross
.
Abilities
NeOhm has the ability to create and manipulate multicolored bolts of electrified neon plasma, making for a dangerously strong light show.
NeOhm can absorb electricity to boost her own powers and can navigate electric hazards without issue.
NeOhm's species lacks a natural fear response, leaving them impossible to intimidate.
Weaknesses
While lacking a fear response poses little danger on NeOhm's home planet, it is a crucial part of making judgement calls elsewhere in the universe.
Appearances
Etymology
NeOhm's name is a combination of the words "neon" and "Ohm".
Plasnight is a combination of the words "plasma" and "night".
Electrove is a combination of the words "electrode" and 'grove".
Motif
NeOhm's design is based on neon lights mixed with a punk aesthetic.
Trivia
The shape of NeOhm's "hair" lights was partially inspired by the designs of Kamen Rider Ex-Aid.
Community content is available under
CC-BY-SA
unless otherwise noted.