"No! Don't open the suit!"
-NRG
NRG is the Omnitrix's DNA sample of a Prypiatosian-B from the planet Prypiatos in Universe-7781.
Appearance
NRG is a humanoid alien, a physical being constantly emitting pure, orange, radioactive energy wearing an green oven-like containment suit capable of containing high levels of radiation and heat with a handle on top. The first Omnitrix is on his chest. The second Omnitrix is on the chest plate on his suit.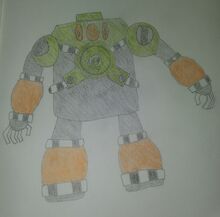 Powers and Abilities
Radiokinesis: He can absorb radiation.
Nuclear Energy Blasts: He can shoot radioactive material out of his body.
Lava Eruptions: He can make the ground erupt lava.
Fire Immunity: He cannot be harmed by fire.
Cryo Immunity: He cannot be harmed by ice.
Radiation Immunity: He cannot be harmed by radiation.
Canon: He can shoot radioactive energy out of his hand cannons.
Enhanced Durability: His armor is invulnerable to almost everything.
Outside of Armor
Flight: He can fly.
Intangibility: Physical objects can pass through him.
Light Generation: He is his own light source.
Weaknesses
Radiation Dependence: He cannot survive without radiation.
History
May 2012
Ben used him to stop Aggregor.
Trivia
When NRG is outside of his suit, the Omnitrix on his suit is deactivated until he is inside of the suit and the helmet is shut.