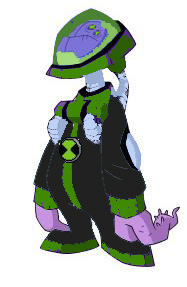 Moonwalk is an upcoming alien in the series Blank and the Omnigizer. He is a Galivitron from the Moon. He will appear in Season 2.
Moonwalk
General Information
Species
Galivitron
Home World
The Earth Moon
Body
Humanoid
Powers and Abilities
Abilities
Gravikinesis

Levitation

Space Survivability

Details
First Appearance
Jumping into Submission
Appearance
He is a humanoid alien with life-support power armor colored white.
In Ben Ten: Enter the Ultimatrix, he looks the same, but all the purple on the suit is green, and the white is black. Also, the tubes are white and the eyes are green. His species launch into space when the Moon hatches and find another moon. The Moon has not hatched yet, so they haven't done that yet.
Powers and Abilites
Gravikinesis
Levitation
Space Survivability
Is immune to Gravity and it's attacks.
Weaknesses
He cannot breathe without is life-support power armor.
Trivia
Curiously, at first, the alien was canceled without getting a name, but at a second suggestion by Dark, he was accepted.
In an early stage of his creation, his species was supposed to be Armstrongian.
Community content is available under
CC-BY-SA
unless otherwise noted.