This is the version of Milleous that appears on Earth-68, the universe owned by Dioga beta. He appears in John Smith 10: Final Fantasy, the John Smith 10 franchise and the Ryder 10 franchise.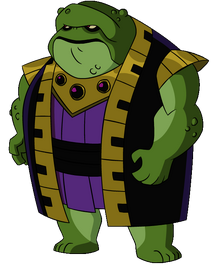 Milleous is the captain of the Incursean Pirates, that occupy the northern and western seas. After an encounter with John, he is killed. He is succeeded by his daughter Attea.
Despite Incurseans having appearing throughout the John Smith 10 franchise, Milleous doesn't make his debut until Omniverse, the final series in the franchise. He becomes more active as he plans to expand and go to war, in the hopes of conquering the universe. His efforts are halted by John Smith, and is unable to enact his war until gaining assistance from Intellectuary. Despite a strong start, the war swiftly goes south for them. Intellectuary uses the Hands of Armageddon to summon Kronos and his army to assist. Kronos kills Milleous and usurps the throne from him.
Milleous appears when Ryder steals from him.
Ryder 10
Secondary Enemies
Bounty Hunters (Kraab, Goyle, Sixsix, Sevenseven, Eighteight, Vreedle Brothers) | Vulkanus (Crabdozer) | Seebik | Psyphon's Gang | Dr. Animo | Zs'Skayr's Followers (Viktor, Yenaldooshi, Mummy | Dr. Psychobos | Road Crew (Baron Highway, Road Rage, Fistrick, Corvo) | Spark Plug | Esoterica | Lucubra | Incurseans (Milleous, Jorgen Von Strangle)
Omnitrixes
Omnitrix | Nemetrix | Ultimatrix