July 2013's Featured Series! Thank you all for voting!
GAMAVERSE IS CANCELLED!!!!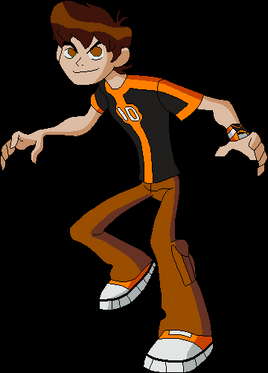 Series Information
Fan List
Write your signature here (with the ~ mark 4 times) if you are a fan! 
Brandon 10 (Wall - Blog - Contribs) 00:19, January 25, 2013 (UTC)
--I am the Ruler of all that belongs to the Light! The Photon Commander! (Wall - Blog - Contribs) 08:33, March 10, 2013 (UTC)
If this battle should leave me slain, I know Herobrine would call my name. 12:46, June 30, 2013 (UTC)
Name's Ahmad15, you'd probably think 15 stands for 15 Aliens. Nope, it stands for series 20:54, March 31, 2013 (UTC)
The Master of Ben 10! (Wall - Blog - Contribs) 21:30, July 11, 2013 (UTC)
Trivia
PM confirmed that Mig will have a new trix with a new set of 10 aliens.

It is also confirmed that there will be a special of how Mig got his real gamatrix that took place after Mig 10 and before Gamaverse.

The art style of this series has changed to Omniverse format.
Each arc will generally have a main villain.
Mig gains a new ally: Maltha, a weapons master and a detective for the plumbers.
Mig is confirmed to be more of a solo hero, meaning Clepron will not be in the series anymore from eps 1 and 2 as a main character.
PM confirmed that Mig may have up to 11 new additonal aliens as well as the new set of 10 and returning old aliens.

All aliens from Mig 10 are confirmed to re-appear in Gamaverse, except Gamahand and Manadite.

There is a confirmed number of 57 episodes overall with this series, making it the most eps, so far, in the Mig 10 franchise.
Mig 10: Gamaverse will get up to 2-3 specials/movies later on in the series. 
After arc 1, the writing style of episodes will change from: "I like this," Mig said, to: Mig: I like this.
Recurring characters and minor villains will have seperate templates and they will be listed here as well. 
Some flashbacks of Mig when he was 13-15 are included in this series after arc 1.

According to Mig, the reason Young Mig uses only Mig 10 aliens is because that's what Mig 10 was supposed to be like. 
See also
Community content is available under
CC-BY-SA
unless otherwise noted.