Mecha
is a member of 
Jury Rigg's Species
 that appears in different media by 
Dioga beta
.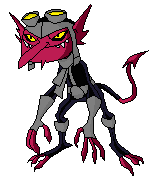 Appearance
Mecha appears very similar to Jury Rigg's Omniverse design, except his aviator suit is grey and black instead of green and black. 
Personality
Mecha is very high strung and very proud of his work. He refuses to believe that anyone is better at him with fixing machinery, and is ashamed when he has to ask for help. He is always moving, fixing or doing something.
His species can smell out lithium, as it is a pungent smell to him.
Mecha first appears in John Smith 10: Galactic Battle, as the chief mechanic for the Crystal Mercenaries. He serves a relatively smal role in this series, though is an invaluable member of the mercenary group. He develops a rival with Baz-El, who later joins the mercenary troupe.
Appearances
Mecha makes a return in this series focused on bikers. As such, he owns a repair shop in Undertown, called Mecha's Mechanics. He has Kevin and Argit as employees, as well as occasionally having his cousins Grick and Grack work there, the two cousins driving him mad. He seems to like Ryder, as his imagination for ideas challenges Mecha's skills. He is the creator of the Tenn-Speed, with Ryder's help.
Appearances
Mecha appears similar to his role in Ryder 10, owning Mecha's Mechanics in Undertown. He is a friend of Lucy, and is called upon for repairs or to cause major destruction. His personal weapon is a bazooka that fires energy that takes the shape of a dragon.
Appearances
Ryder 10
Secondary Enemies
Bounty Hunters (Kraab, Goyle, Sixsix, Sevenseven, Eighteight, Vreedle Brothers) | Vulkanus (Crabdozer) | Seebik | Psyphon's Gang | Dr. Animo | Zs'Skayr's Followers (Viktor, Yenaldooshi, Mummy | Dr. Psychobos | Road Crew (Baron Highway, Road Rage, Fistrick, Corvo) | Spark Plug | Esoterica | Lucubra | Incurseans (Milleous, Jorgen Von Strangle)
Omnitrixes
Omnitrix | Nemetrix | Ultimatrix
Community content is available under
CC-BY-SA
unless otherwise noted.