Magister Nebula
, full title
Magister Nebula of the Arachnichimp, Savior of Worlds
is a minor character in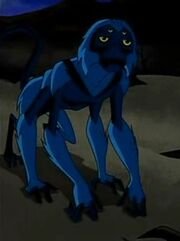 the
Sem 10
franchise.
Character
Nebula is always show to be calm, but was seen worried in Monkey Business. He has helped planets for as long as he was a Plumber, and is currently still one.
Abilities and Weaknesses
Simply put, Spidermonkey's.
Appearances
Trivia
He will return in an episode of Sem 2.10, as revealed in Ultimate Hyjinx when told Sem that they will see each other once again.
Community content is available under
CC-BY-SA
unless otherwise noted.