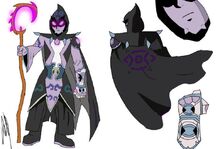 Nega Mage is the Negatrix's DNA sample of a Magicstral from the planet Mahosekai. Mage was created by Igrão Dias.
Appearance
Nega Mage is a purple individual with grey-ish, purple, black and white robes, a silver and blue gauntlet with magical amulets and a magical staff. He wears the Negatrix symbol on his waist.
Personality
Nega Mage is serious and narcissistic.
Powers and Abilities
Nega Mage has advanced intelligence and is very concentrated, and because of this has ease upon magic learning. He is not a mana user though.
Nega Ben usually uses Mage just to feel more powerful than the others around him.
Weaknesses
Nega Mage spells can be turned against the sorcerer if he is not focused on them.
History
Appearances
Trivia