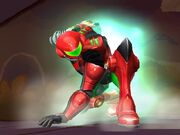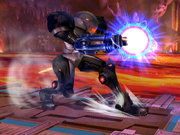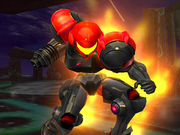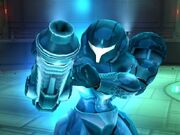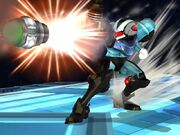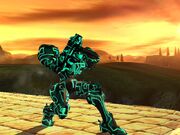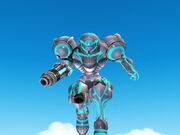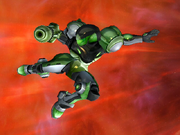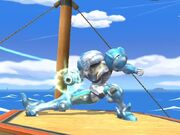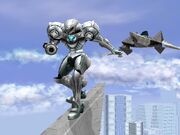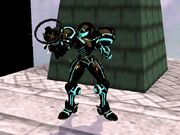 Matthew "Mac" Aran is the son of Samus Aran and David "Solid Snake" Sears he became a bounty hunter and a mercenary for the government.He was taught Fighting Techniques,Battle Strategy,Stealth,and survival by his parents Samus gave him the power suit (which he made a few changes to) and Gunship a while Snake, his stealth suit and equipment After his parents untimely death by Ridley in a fight on the battle field swore revenge against all metroid and space pirate. Eventually he killed off every living Pirate and Metroid anf finally Ridley. He became hardened by his onslaught and continued his life of sorrow.
==
Zero Blast,Energy Projection,Burning Hand,Poison Gas,Poison Tipped Claws(Death)
Phazon Manipulation/Projection(Phazon)
Dark Energy Projection/Manipulation(Dark)
Missle,Charge Cannon,Thrusters,Grapple Beam,(Varia)
Extreme Durability,Machine Guns,Charge Cannon,Chain Flail(Heavy)
Flight,Gravity Manipulation,Charge Magnet Cannon,Ice Beam,Spiked Boots,Insulated Suit(Tundra)
Twilight Manipulation,Resistence to Twilight,ShapeShifting,Energy Projection(Twilight)
StarBlasts,Galaxy Energy Projection,Flight,Durability,Create Planets (Takes time to charge),Teleportation,Weather Manipulation(Nebula)
Hydrokinesis,Torpedos,Swimming,Take Oxygen from Water,Invisible to Radar(Water)
Missles,Cyber Blade,Speed(Proto)
Technokinesis,Identity Shuriken,Energy Projection,Light Cycle,Force Field(Program)
Community content is available under
CC-BY-SA
unless otherwise noted.