Lunaqua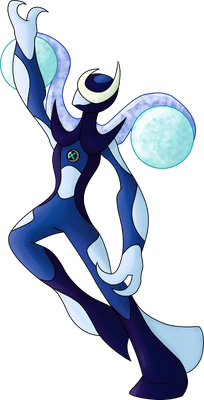 General Information
Species:
TBA
Home World:
TBA
Body:
Liquid Humanoid
Powers and Abilities
Abilities:
Water Manipulation
Light Redirection
Night Zone
Details
Classification:
Aqua
Motif:
Ocean
The Moon
First Appearance:
Lucky X 13
Lunaqua
is an alien from the series
Tech Cross
.
Abilities
Lunaqua has the ability to manipulate and merge with water, making her a formidable force around any decently-sized water source.
She can use the bubbles created by the liquid tendrils on her back to focus light like a magnifying glass, creating beams of intense light energy.
Most uniquely, she can create a field of darkness around herself to trap her opponents in that mirrors the night sky, with a false "moon" made of light from the surrounding area acting as an extra layer of focus for her light beams, making them significantly more powerful.
Weaknesses
Lunaqua cannot generate water on her own, forcing her to rely on external sources of the liquid.
Appearances
Etymology
Lunaqua's name is a combination of the words "luna" and "aqua".
Motif
Lunaqua as a whole is based on the ocean and its symbolic connection with the moon.
Trivia
Community content is available under
CC-BY-SA
unless otherwise noted.