Lotin

Vital statistics
Home World
Corten II
Species

Telecortexian

Age (2012)
30

Age (2014)

32

Age (2026)

44

Other info
Physical description
Gender
Male
Hair Color
Black
Eye Color
Red
Relationships
Relatives
Viper (wife), Thebes (son), Lazmir (deceased father), Wevera (mother)
Affiliation
The Elite
Rank
Leader
Powers and equipment
Powers
Superior Intellect, Telekinesis
Paraphernalia
Sword, Rigon's crystals, Mirror of the Stars (briefly)

Production details
First Appearance
"Pilot, Part 1"
Voice Actor
Oded Fehr
Lotin is the leader of the Elite and the main villain of the Team on Earth-19.
Physical appearance
While at the Plumbers' Academy, Lotin wears the standard Magister uniform. Upon leaving the Academy to become a full fledged villain in Detention, he keeps the same basic appearance but the colors change from the green and black of the Plumbers' Academy to the red and silver of the Villain's Academy.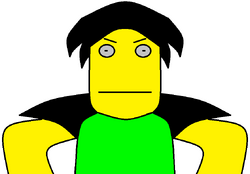 After making his return following his disappearance in early summer 2014, he ditches the Academy-esque appearance completely, in favor of black body armor. At some points, he is also seen wearing black and dark purple robes.
When he is seen in prison in the second season, he wears standard prison gear, along with all the other prisoners.
Powers and abilities
Abilities
Weaknesses
Paraphernalia
Sword
Rigon's crystals
Mirror of the Stars (briefly)
Appearances
Young Plumbers
Young Plumbers: Generations
To be completed.