"So much blood, so much pain.
Just to see the sun again.
One day soon, freedom shall ring!
So proclaims the island king! "
— Astroph
Astroph
General Information
Species
Mega Gallade
Age
51
Powers and Equipment
Equipment
Scythe
Mask
Pokémon Info
Types
Psychic
Fighting
Ability
Time Stop
Relationships
Alias

ASTROPH


King Hufflepuff
Details
Voice Actor
Daniel Wagner
King Astroph is a character in Pokémon Sky. He is a Mega Gallade that is the king of The Off-the-ground.
Appearance
He's an average Mega Gallade with pauldrons.
Personality
Astroph is incredibly boring. He likes plants and Harry Potter.
Powers and Abilities
He has a scythe.
He has a mask that gives him power.
He has the special Ability Time Stop, which allows him to take another turn in battle by stopping time, but only Otto knows.
Weaknesses
Astroph is just so ho-hum.
Biography
The prince and princess ran off to the human world and got killed, so Astroph declared war on humans.
Relationships
Family
Tutroph prefers to be with Derwin than his own father.
Friends
Astroph and Derwin have a wholesome intergenerational friendship.
Gallery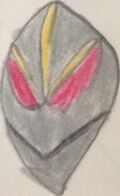 Trivia
Astroph resembles the Grim Reaper.
His art is based on King Dedede's from Super Smash Bros. Ultimate.
Pokémon Sky
Entries
Pokémon Light & Dark - Pokémon Magic - Pokémon Sky: Mystery Dungeon - Pokémon Mystery Dungeon: Grass Toad Team - Pokémon Sky (Show) (non-canon) - Pokémon Sky: The Movie - Pokémon Sky: The Series - Ben 10: Into the Omniverse (Movie) - Pokémon Space - Pokémon Time - Pokémon Dimensions - Pokémon Mystery Dungeon: Legend of the Hidden Mace - Pokémon Mystery Dungeon: Legend of the Hidden Blaster
Community content is available under
CC-BY-SA
unless otherwise noted.