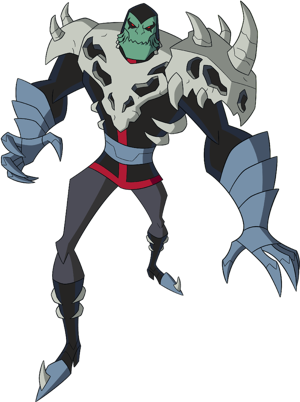 Khyber is a reccuring character in Ben 10: Inversed Roles.
Appearence
Khyber has a black suit covering his upper body with a red stripe in the middle and grey pants. He has grey gloves and a grey belt, and black boots with grey soles. He wears bones as ornamentation over his clothes, the broken up skeletal remains of creatures he has hunted, described as "some of the most vicious quarry in the universe". The only part of Khyber's body that is exposed is his face, which is turquoise with a large lower jaw. He has dark red sunken eyes, and gills under his cheeks.
Backstory
Khyber helped Dr. Psychobos and Malware to create the Nemetrix, a knock-off version of the Omnitrix. He was tasked with finding a user for the Nemetrix, and finding DNA to complete it. Khyber easily found the DNA of predators of every alien from the Omnitrix, and installed them into the Nemetrix, making it complete. Khyber put it on his pet, Zed, and used Zed to help him attack enemies. However, in a fight against Gwen, Kevin, and Ben, Zed left Khyber for Kevin, causing him to flee from the fight. Realizing he needed assistance, he joined the Shattered.
BTIR
Neutral
Simian - Professor Paradox
Minor Villains
Gwen Tennyson - Kevin Levin - Devin Levin- Psyphon - R.E.D.S. - Will Harangue - Alpha - Ben 10,000
Unlimited Formes Introduced

Unlimited NRG - Unlimited AmpFibian - Unlimited Ditto - Unlimited Humungousaur - Unlimited Spidermonkey -Unlimited Echo Echo - Unlimited Swampfire - Unlimited Cannonbolt - Unlimited Big Chill - Unlimited Wildmutt - Unlimited Grey Matter - Unlimited Gravattack - Unlimited Arcticguana
Community content is available under
CC-BY-SA
unless otherwise noted.