This is the version of Julie Yamamoto that appears on Earth-68, the universe owned by Dioga beta. She appears in the John Smith 10 franchise, John Smith 10: Final Fantasy and Ryder 10.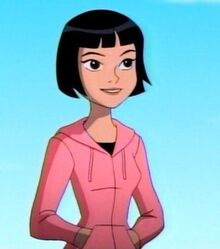 Appearance
Same as UAF
Julie is the star player of the girl's tennis team, gaining the interest of John Smith, who's also a tennis player. He manages to successfully ask her out, their first date ending with an attack by a Techadon Robot. While John hides his powers and defeats the robot, the robot attacks again at their school dance. When alien bounty hunters come after him, she is fed up with it, John revealing her powers to her. He then saves her from Kraab.
The two start seriously dating, though John fighting aliens gets in the way. On one date, they encounter Ship, who leads them to rescue Baz-El. Soon, the Forever Knights (Earth-68) go after Ship, turning him into a corrupted battle ship. John manages to save him. The two then join John as they fight off the Highbreed invasion. When Vilgax attacks Bellwood at Julie's tennis match, John's identity is revealed to the world. And on his apparent death, Julie throws something at Vilgax, causing him to go after her. John attacks relentlessly, driving Vilgax off.
When John accidentally unlocks Clockwork, he tells her about his powers, encountering Paradox as well. Rob Lucci kidnaps her in an attempt to get John, which succeeds, John giving Lucci the Omnitrix. However, despite John defeating Lucci, P'andor goes to kill Julie, John sacrificing himself to save her. Afterwards, when Azmuth takes the Omnitrix, Julie takes it to use Clockwork in an attempt to save John. However, she goes back in Galvan Prime's time instead, and is rescued by Gwen and Kevin.
After John is revived, he starts to consider about her safety. After she's kidnapped by Elena, John breaks up with her, in an attempt to keep her safe. She becomes angry with him, her feelings for her still strong. She doesn't appear again until she needs help in finding Ship, where John instantly agrees. The two repair their relationship slightly, agreeing to be friends. Even when kidnapped by Overlord, and he rescued her, he just said she was a friend, even though he still has feelings for her too.
During the attack of Weapon Master 13, the Omnitrix is split into four, Julie gaining one. She becomes involved in fighting with John and the others, her anger for John growing. She reaches her breaking report when she turns into Rath, and lets her emotions break free. She attacks John, John ending the battle by throwing her into a wormhole, accidentally. She is taken by the Diagon, where she is turned into an Esoterica.
She returns as the faithful servant of Diagon, manipulating Vilgax into getting his heart and partially opening the seal. Her Omnitrix piece is given to Winston, as she gains the Ultimatrix. Diagon possesses her to battle John, where it almost wins. However, John gets the Diagon out of her, after much difficulty. At the end, the two get back together.
Julie appears very little in this series, appearing when John fights some of Aggregor's robots. She later has a date with John, and then sees John off to war. When Metal John attacks, she is caught in it, and sees Ultimate John in his mutated form. He sees her, saying that he's a monster. He then leaves the dimension.
Julie is caught in the Zombie Curse caused by Phantom and Dr. Animo. She and Ship are forced to fight John, who eventually frees both of them. After the War Games ends, Julie joins the heroes in invading Phantom's castle. She joins Tack and Eddy, but they are quickly defeated and captured. She joins John in the final battle against Vilgax.
Julie appears only once, when John returns from Greece, a month late to their date.
While not appearing in the present, she appears in flashbacks. She tries to convince John to live a normal life, which he doesn't accept. She then protects him from an attack by Overlord, making him think he's worthless. The two argue, and John leaves to go dimension hopping again.
Once John returns from dimension hopping, he goes to see her. However, she has decided to break up with him, and leaves him. She goes on to date Hervé, who is actually a Lenopan.
Julie appears in the world of Ledgerdomain, appearing as Princess Snow.
Julie doesn't appear directly, but Artemis, the spirit of the moon, takes her form.
Julie appears as a love interest for Ryder, though she still lives in Denver. She assists Ryder against the bounty hunters after him, though stays home afterwards.
She appears much later, a member of the Esoterica and the Flame Keepers' Circle. She vividly believes in the cause.
Appearances
Ryder 10
Secondary Enemies
Bounty Hunters (Kraab, Goyle, Sixsix, Sevenseven, Eighteight, Vreedle Brothers) | Vulkanus (Crabdozer) | Seebik | Psyphon's Gang | Dr. Animo | Zs'Skayr's Followers (Viktor, Yenaldooshi, Mummy | Dr. Psychobos | Road Crew (Baron Highway, Road Rage, Fistrick, Corvo) | Spark Plug | Esoterica | Lucubra | Incurseans (Milleous, Jorgen Von Strangle)
Omnitrixes
Omnitrix | Nemetrix | Ultimatrix
Community content is available under
CC-BY-SA
unless otherwise noted.