Jorgen Von Strangle, toughest Incursean in the Galaxy, is a character from Earth-68. He first appears in John Smith 10.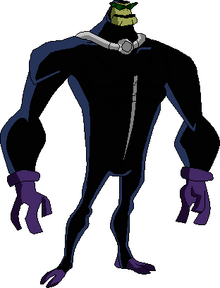 Appearance
Jorgen is a large, muscled up Incursean, comparable to Four Arms in strength. His head resembles standard Incursean heads, except with a lag for a chin.
Powers and Abilities
His title as "toughest Incursean in the Galaxy" is no exageration. His greatest power is his super strength. Along with that, he has the enhanced jumping abilities his species is known for.
Weaknesses
Jorgen's sense of smell is very strong, so strong gases affect him easily, especially sleeping gas. He can be restrained if his arms are trapped.
Appearances
Dimension 10 (Ben 10)
Appearances
Trivia
He is based off of "Jorgen Von Strangle, toughest fairy in the Universe" from Fairly Oddparents.
(Dioga beta (Wall - Blog - Contribs) 16:30, December 13, 2013 (UTC))
Ryder 10
Secondary Enemies
Bounty Hunters (Kraab, Goyle, Sixsix, Sevenseven, Eighteight, Vreedle Brothers) | Vulkanus (Crabdozer) | Seebik | Psyphon's Gang | Dr. Animo | Zs'Skayr's Followers (Viktor, Yenaldooshi, Mummy | Dr. Psychobos | Road Crew (Baron Highway, Road Rage, Fistrick, Corvo) | Spark Plug | Esoterica | Lucubra | Incurseans (Milleous, Jorgen Von Strangle)
Omnitrixes
Omnitrix | Nemetrix | Ultimatrix
Community content is available under
CC-BY-SA
unless otherwise noted.