The Infinitrix is a machine in K-10 that was used by Kent Spacmin to alter the users DNA.
Appearance
why u ask me ?look at the picture!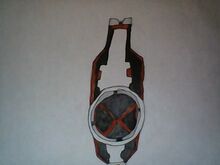 Origin
It was made by marik a galvin that wasn't the first thinker. It was incomplete so it had some glitches. Vilgax then attack Galvin Prime and sent it to earth hoping that Jhon spacmin's grandson would find it.
Features
DNA altering
Teleporting
Communication
DNA storage
Modes
RED= active
PURPLE= recharge mode
GREEN= DNA scan
YELLOW= self-destruct
BLACK= deactivated
Appearances
Community content is available under
CC-BY-SA
unless otherwise noted.