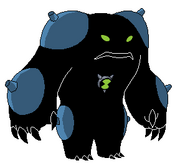 Infinite Cannonbolt is an alien in
BTMT
. He is the Infinite form of Cannonbolt.
Appearance
He is bigger than Humongousaur, and is black, also having a lower voice. He is much more powerful than even Ultimate Cannonbolt. He has three spikes on his Omnitrix, as do all BTMT Infinite Forms.
( he also appears as an alien in Carter 10 it runs in the family )
Appearances
Gallery
---****--- Roads
Carter 10: it runs in the family
Season 1
Just a Carter 10 family christmas special !
Infinite power Part 1 !
Infinite Power Part 2 ! 
​Season 2 !
NO APPEARANCES
Season 3 !
Back To the Futures Past ! 
Community content is available under
CC-BY-SA
unless otherwise noted.