Infinite Balloony is the infinite form of Balloony. It was made because the Ek caper is over, and also no one thought this alien could be made. This alien can be used without permission.
Infinite Balloony



Powers

Farting
Mars Teleportation
Tango Dancers
Super Strength
Clown Powers

Created by

Ultimatehero

Designed to beat

Species

Infinitized Ekbeater

Planet

Planetofekbeaters
Powers
If putting their lockets together, them and any Super Evolved Lfs around them will teleport to Mars
Very good at tango dancing
Controlling farts
Super strength
Cryokinesis (yeti)
Super agility (yeti)
Banana bombs (yeti)
Acid shelter (Bigfoot)
Earthquakes (Bigfoot)
Exploding balls (Bigfoot)
Ridable balloons (Bigfoot)
Weaknesses
Being around an area with no bananas for a long time (yeti)
Fire (yeti)
Mimes (Bigfoot)
Bear traps (Bigfoot)
A piece of pie fighting a boxer and they fall down a bottomless pit on the fifth sun from the moon (I needed a weakness that wasn't regular)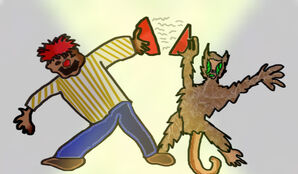 Community content is available under
CC-BY-SA
unless otherwise noted.