Incineroar
General Information
Species
Incineroar
Home World
The Off-the-ground
Powers and Equipment
Equipment
Fire Belt
Pokémon Info
Types
Fire
Fighting
Moves
Darkest Larait
Circle Throw
Cross Chop
Revenge
Max Malicious Moonsault
Ability
Blaze
Relationships
Relatives
Sceptile (Husband)

Sobble (Child)

Details
Voice Actor
Mick Foley
First Appearance

Pokémon Light
Indy Cineroar is a hero in Pokémon Sky. He first appeared in Murder on the Prototype Express. He is from The Off-the-ground.
Appearance
Insy Cineroar looks like a normal Incineroar.
Personality
He is tough and heroic.
Powers and Abilities
He has pyrokinesis and a mastery of dirty tricks.
He knows the moves Darkest Larait, wherein he spins into the target, Circle Throw, which throws the opponent, Cross Chop, a Dragon-type attack, and Revenge which boosts his power upon being attacked.
His Ability is Blaze, which boosts Fire attacks in a pinch. Using his Incinium-Z, he can use the move Malicious Moonsault. He can also boost it into Max Malicious Moonsault.
Weaknesses
He taunts after every attack.
Relationships
Family
Sceptile
Incineroar and Sceptile are a lovely romantic couple.
Sobble
Incineroar is a good father to Sobble.
Freinds
Tony and Incineroar get along incredibly.
Derwin considers Incineroar a surrogate uncle.
Appearances
Trivia
His art uses Incineroar's pose from Super Smash Bros. Ultimate.
On all levels but mental, he is a flaming homosexual.
Gallery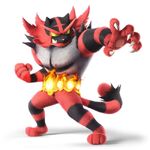 Pokémon Sky
Entries
Pokémon Light & Dark - Pokémon Magic - Pokémon Sky: Mystery Dungeon - Pokémon Mystery Dungeon: Grass Toad Team - Pokémon Sky (Show) (non-canon) - Pokémon Sky: The Movie - Pokémon Sky: The Series - Ben 10: Into the Omniverse (Movie) - Pokémon Space - Pokémon Time - Pokémon Dimensions - Pokémon Mystery Dungeon: Legend of the Hidden Mace - Pokémon Mystery Dungeon: Legend of the Hidden Blaster