Incarcecon is a completely artificial prison planet built only to keep alien criminals safely held. There are no rules there, it's only survival of the meanest, and there are some known aliens there, Myaxx, Sixsix, and types of aliens such as Tetramand, Piscciss Volann. Galvanic Mechamorph are also set there for maintenance and general repair.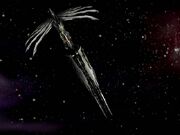 Ben 10: Ultimate Alien
In Nor Iron Bars a Cage, Incarcecon is a regular prison, but in the Null Void. The reason for this is revealed by Dwayne McDuffie. He said Incarcecon consisted of branches, and the one in SOTO and in NIBAC were seperate branches.
Clash of the villains
Battles Villains:
The Sphinx vs. Gigantus Ah Puch vs. Time Jr. vs. Dr.Brain
Vote here which villain will win in your opinion. DON'T VOTE FOR YOURSELF!
Evfnye 10
In Evfnye 10, Incarcecon is the prison where SupresLime and Neuroticus met and escaped.