Humungousaur is the DNA smaple of a Vaxasaurian from the planet Terradino.
Its evolved form is Ultimate Humungousaur.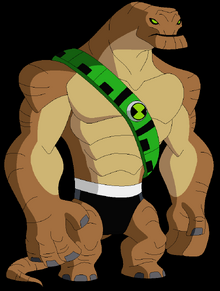 Appearence
Humungousaur is a dinosaur-like alien with humanoid hands. He looks like his Omniverse self.
Powers and Abilities
Humungousaur is strong enough to handle three large snakes, altrough he couldn't defeat them together. He possesses enhanced durability, agility and can grow Stegosaurid-like plates on its back.
He can use his tail as a weapon.
Weaknesses
Humungousaur is weak to electricity.
Appearences
By Ben
By Albedo
At Azmuth's College Aliens
Trivia
Humungousaur will appear in a video game.
Community content is available under
CC-BY-SA
unless otherwise noted.