Het
General Information
Species
Flamine
Home World
N/A
Body
Humanoid
Powers and Abilities
Abilities
Controlling fire
Details
Het (Heat) is an alien in Ben 10: Team Tennyson and Ben 10: Multi Trixes. He is made of pure heat, and can melt anything. He first appeared in My Heat is Broken . His Ultimate form is Ultimate Het.
Abilities
He can move himself through any substance, even though he incinerates it. He can also shoot fire from his hands.
Weakness
His one and only weakness is water.
Ben 10: Multi Trixes
In BTMT, he is in the main ten aliens of Season 3. His appearance has also changed. He is now a more orange color, and he is shaped like P'andor without legs. He serves the role of Heatblast.
Kurt 10: Beyond Time and Space
He appears as one of the original 10 in the Ultrimatrix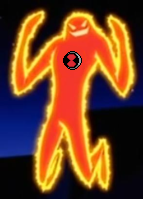 Gallery