TV-MA

DLV
The content of this series is not recommended for people who take offense from the topics addressed.
The following additional labels have been provided: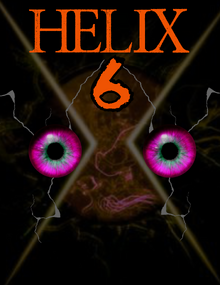 Helix 6 is a movie by I Want a Hippo for the purpose of making a different and scary story in the Ben 10 omniverse for Halloween that follows Helix 6something and his two friends as they try to find the creator of a mysterious watch that finds itself on Helix's arm. It aired on 10-31-2020.
Synopsis
A 14 year old kid named Helix and his friends go out on Halloween and stumble upon a watch that latches itself onto Helix's arm. The trio then have to go and find whoever made the watch so that they can remove it from his wrist. Little do they know, something ominous is happening around the watch.
Trivia
The idea of the main cast being a group of kids came from IT.
Helix's last name is never mentioned but does have a 6 somewhere in it (feel free to guess it).
Fans
Add your signature (~~~~) on a new bullet here.
Characters
Heroes
Helix
(Friend 2)
(Friend 3)
Villains
Abraham Horrorton
Name TBA
Name TBA
Aliens
Blitzwolfer

Snare-Oh
Frankenstrike
Whampire
(New Monster Alien)
Plot