Guardians are a species fron the planet Aqualux.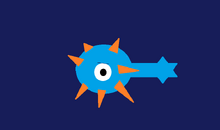 Appearance
They look like blue fish with orange spikes and one eye.
Biology
Guardians evolved from one-eyed invertebrates of Aqualux.
Powers and Abilities
Other than underwater breathing and agility, they have sharp spikes and a laser they fire from their eye.
Elder members of this species has a poison that makes victims tired.
Appearences
Trivia
Notable Guardians
Inhabitants of Aqualux
Elder Guardian
Community content is available under
CC-BY-SA
unless otherwise noted.