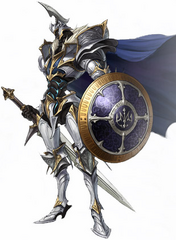 He is also known as the White Knight. First seen in the tirtenth episode of the Borg 10- Alien Rescue Squad series, The White Knight . He had to defeat The Dark Knight to re-gain its white dragon back, and made friends with Borg 10 and its team.
Equipment
-A sword made with alien metal that can cut quite any thing, that can aslo become a wip
-A shield that is also made of the same metal of his sword, that can also shoot energy beams
-An indestructable armor, as strong as tadanite, that can protect him from almost anything
Community content is available under
CC-BY-SA
unless otherwise noted.