Goppicent is the home of Faxonians, Copy-Copy's species. Faxonians are born in the ground.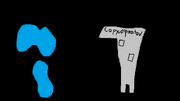 Buildings
Faxonians make businesses that help others think of ideas for things like poems, books, and speeches.
Geography and History
59 million years ago, it rained. It rained for two 1/2 years. During these years, Faxonians were born. Sometimes, a raindrop hit the ground and a Faxonian was born at the exact same time, making a Copy Pool. Adult Faxonians discovered these pools. When one got in, they were copied. When electricity was made on Earth, it was sent to Goppicent and powered their technology. Faxonians used Copy Pool water to power their fax machines and copy machines. Earth scientists try to duplicate the water.
Community content is available under
CC-BY-SA
unless otherwise noted.