For other uses, click here.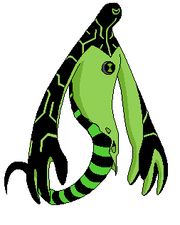 Ghostgrade is an alien in Ben 10: Multi Trixes.
Abilities
Disadvantages
Upgrade's disadvantages
Ghostfreak's disadvantages
Ben 10: Multi Trixes
When Zs'Skayr escaped from the Minitrix, he fused with Ship, making Ghostgrade. When Ben regained him, he got Ghostgrade instead of Ghostfreak. He has yet to actually appear in the series.
Acknowledgements
Ghostgrade was created by Lord Ghostfreak, who is currently inactive. Permission to use was granted by Waiyenoo, his cousin.
Appearances
---****--- Roads
Community content is available under
CC-BY-SA
unless otherwise noted.