Ghostfreak is the DNA sample of an Ectonurite from the interdimensional planet Anur Phaetos.
Appearance
Albedo used Ghostfreak in Strange Sexual Tension, where he possessed Gwendolyn and Kevin. This means the only thing possible to tell is that Albedo as Ghostfreak has a red eye.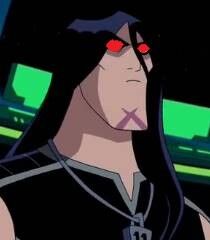 Powers and Abilities
Ghostfreak can possess beings by entering their bodies, using his intangibility.
Ghostfreak retains the possessing being's voice.
Weaknesses
Ghostfreak can be harmed by sunlight.
Appearances
At Azmuth's College Aliens