Geometrick is an Addem from the planet Up. He is in the Sonomatrix.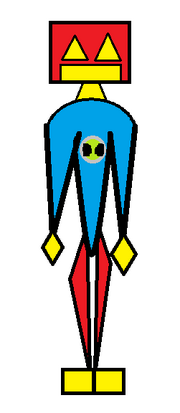 Appearance
Geometric is mostly made up of geometrical shapes in the primary colors. These simple lists should explain everything:
Parts that are Quadrangles
Head
Legs
Mouth
Feet
Hands
Parts that are Triangles
Parts that are Round
Body (Shoulders)
Sonomatrix Symbol (on his chest)
Parts that are Red
Parts that are Yellow
Hands
Mouth
Eyes
Neck
Feet
Parts that are Blue
Parts that are Other Colors
Sonomatrix Symbol (Green/Gray/Black)
Abilities
Geometrick has enhanced intelligence that wouldn't be noticed in a first impression. He can also make and control geometrical figures.
Weaknesses
Nerdy (Also doesn't show)
His lack of COOLNESS!!!
Inability to control rounded shapes
SOCIAL STUDIES!!!! AHHHHHHHHHH!!
Community content is available under
CC-BY-SA
unless otherwise noted.