Gargoyle

Planet

Pedra

Species

Superpredian

Powers

Shapeshift with hands, Fly and make statues to life

First Appearance
Gargoyle is made of pure stone. His name tells it all.he comes from the planet pedra.his species is superpredian.
Powers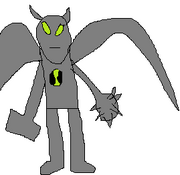 Gargoyle can shapeshift his hands. He can make them into any shape. He can also fly and can make statues come to life.
Weakness
If he gets cracked enough, he can't shape shift his hands. If he gets cracked more, he will be unable to move.