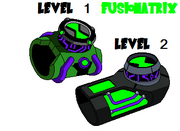 The
Fusionatrix
was created by Ben 10,000 as a birthday present for Ken. It cannot become corrupt for it has a safe guard against life forms such as Eon or Zs'Skayr. It has 5 different functions which are:
| | |
| --- | --- |
| Active mode | Green, Defult mode. |
| Recharge mode | Red, Out of power. |
| Scan mode | Yellow, Scanning for DNA. |
| Self-Destruct mode | Orange/Green, Count down to explosion. |
| Recalibration mode | Blue, Recalibrates to users personality. |

The Fusionatrix is linked to the Codom Stream and has acces to an endless amount of DNA samples the ones known are the following:
Splicer
Wildfire
Soundtrack
Ravenger
Bricker
Hotwire
Wildwolf
Lavatar
Limiter
Community content is available under
CC-BY-SA
unless otherwise noted.