Appearance
It looks like the
Ultimatrix
with a second faceplate.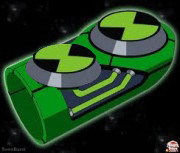 Abilities
It works just like any Omnitrix, by swaping the the user's DNA with the DNA of the selected species. It can fuse two species' DNA together to create powerful fusion aliens. It has every DNA sample from the unlocked Omnitrix. It cannot evolve fused aliens. It can transform you into one alien with just one faceplate or by selecting the same alien twice. It does not contain evolved forms . Evolved aliens cannot be fused.
Usage
You select an alien on each faceplate and pressdown.
Main Fusions
XLRgrade XLR8 and Upgrade
Echo Bolt Echo Echo and Cannonbolt
Ghost Arms Ghostfreak and Four Arms
NRmutt NRG and Wildmutt
Lodehead Lodestar and Diamondhead
Heat Goop Heatblast and Goop
Wild Chill Wildvine and Big Chill
Spiderdrillo Spidermonkey and Armodrillo
Jetrath Jetray and Rath
EyeFibian Eye Guy and AmpFibian
Stinkchuck Stinkfly and Upchuck
Terrawolf Terraspin and Blitzwolfer
Grey Jaws Grey Matter and Ripjaws
Brain Ditto Brainstorm and Ditto
Swampmummy Swampfire and Snare-oh
Fastshock Fasttrack and Buzzshock
Nanosaur Nanomech and Humungousaur
Chromavicktor Chrastone and Frankenstrike
Cham Spitter ChamAlien and Spitter
Watartic Hazard Water Hazard and Articguana
Jureatle Jury Rigg and Eatle
Possible Fusions
Wild Mutt
Four Arms
Grey Matter
XLR8
Upgrade
Diamondhead
Ripjaws
Stinkfly
Ghostfreak
Heatblast
Cannonbolt
Wildvine
Benwolf
Benmummy
Benvicktor
Upchuck
Ditto
Eye Guy
Community content is available under
CC-BY-SA
unless otherwise noted.