THIS ALIEN IS FOR FREE USE
"Half-cold, half-hot, all awesome."
-Frosteam
Frosteam is the Omnitrix's DNA sample of a Shotosapien from the planet Endok in Universe-7781.
Appearance
Frosteam's left side is made up of flames while his right side is made up of ice. He has spikes coming out of his face cheeks. His Omnitrix is on his collar.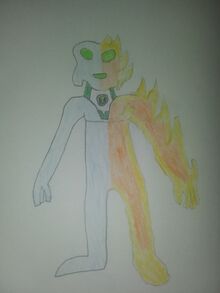 Powers and Abilities
Cryokinesis: They can make a stadium sized glacier with one step of their right side.
Ice Shard Projectiles: They can shoot ice shards out of their body.
Pyrokinesis: They can shoot extremely hot flames from the left side body.
Pyrokinetic Touch: They can set things to flames with a touch.
Freezing Touch: They can freeze things with a touch.
Slippery Body: Their body is as slippery as ice.
Weaknesses
Melting/Freezing: If their ice and fire stay close enough they will cancel each other out. Such as the fire melting the ice or the ice freezing the fire.
Alternating: They cannot use both sides at the same time and need a 1 second break in between alternating sides.
History
TBA
Trivia
He is based on Shoto Todoroki from My Hero Academia.
Community content is available under
CC-BY-SA
unless otherwise noted.