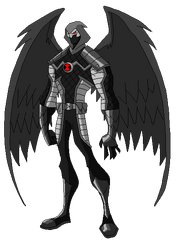 FrightWing is a Ventus Turadon from the Planet Ventose He is a Bird-like humanoid alien which Rex Frequently uses for Flight,Speed,and Stealth.
Powers
Wind Manipulation
Flight
Creating Tornadoes
Stealth
Flight Speed Can Create Sonic Booms
Talons on hands
Sonic Screech
Stealthy
Hawk level Vision
Wings Becom Cloak
Metallic Armor
Night Vision
Weaknesses
When Using Night-Vision he can be blinded by a bright light.
Flying into Object while in a sonic boom.
Community content is available under
CC-BY-SA
unless otherwise noted.