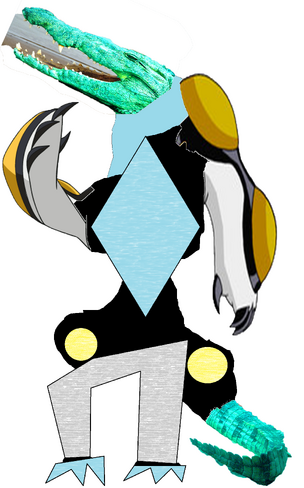 Is An Upcoming Villain In An Upcoming Episode of Ben 10: Galactic Smash A Super Mutant Created by Dr. Animo and Mystically Augmented by Adwaita  He is a member of Skrawl's  Magic Mutant Gang  He is 1/3Arburian Pelarota 1/3 Polar Manzardill  1/3 Saltwater Crocodile
Personality
Powers and Abilities
From Alien DNA
He has all the powers of Articguana and Cannonbolt
From Earth Animal DNA
Jaw Strength and Powerfull Tail
Mutant Powers
Magic
He can change his weight at will. He can go from being 1 kilogram, light enough to float on the wind , to 10,000 kilograms, dropping with intense force to crush his opponents. Even with his weight increased, it seems as though he can move normally, instead of being weighted down by his own mass.
Community content is available under
CC-BY-SA
unless otherwise noted.