Forever Alone
is an alien in
The Story of the Memetrix
. He is a Alonian from the planet Memeia (where all alien memes come from). He is free to use.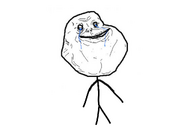 Appearance
He looks like Forever Alone guy's face with a stick figure body.
Powers
Completeley undetectable. He doesn't become invisible, it's just that no one notices him. AT ALL. He can spy anywhere and no one will notice him.
Creates anti-people forcefield that pushes people away
Can create imaginary friends that come to life
Can make objects come to life, and be his friends
Weaknesses
He is FOREVER ALOOOOOOOOOOOOOOOOOOOOONE.
Appearances
Community content is available under
CC-BY-SA
unless otherwise noted.