This page is preserved, A better version can be found here.
Forestfire is a alien in Simien 10 and Ben 10: Unlimited Power . He is one of Simien's aliens. He also appears in Ben 10: Unlimited Power as one of Ben's aliens in the Omnitrix III.
Forestfire
General Information
Species
Xylopyron
Home World
Incendiebois
Body
Tree-like
Powers and Abilities
Abilities
Pyrokinesis, Chlorokinesis, Stretching his limbs, flying.
Details
Powers
Pyrokinesis, controling fire
Controlling plants
Growing another face on his back
Stretching his arms
Flying
Disguises himself as a tree
Planting himself
Weaknesses
Species and Planet
Species: Xylopyron
A tree-like species.In order to survive Incendiebois's burning forests, they have developed a fire manipulating ability. They also can disguise themselves as trees to hide from predators, and control plants to defeat the predators if spotted, since all species there are immune to fire.
Planet: Incendiebois (actually a moon)
One of Selva's moons, this moon is literally a burning forest. The moon is filled with unique trees which are immune to fire and burn constantly. The moon is a home for many species that have developed a immunity to fire. Survival for other species is nearly impossible (except for Pyronites, Methanosians and other fire controlling species), since the whole moon is full of burning forests, and there almost isn't a spot on the moon with no burning tree.
Appearence
He looks tree-like
He has 7 legs as "roots"
He has a line of leaves on his back from his forehead until his legs
He has Jack-o-Lantern-like face on the tree stump with fire in them
He has fire spikes on his roots, back and arms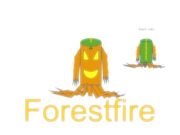 Alternate versions
Eriftserof is Forestfire's opposite clone, used by Neimis. He has the opposite of Forestfire's powers. Eriftserof can freeze, control technology, fly, stretch his arms and disguise himself as a metal pipe. Eriftserof is a Norypolyx from Siobiednecni.
Appearences
Simien 10
"Omnimorphed" (by Ovillon)
"Cloned"
Community content is available under
CC-BY-SA
unless otherwise noted.