Finn 10
is a series focusing on
Finn
from Cartoon Network's
Adventure Time
getting the
Omnitrix
and must save the universe, with the help of
Princess Bubblegum
and her
anodite powers
, along with
Jake
and his stretching powers.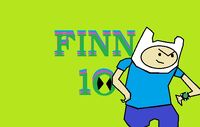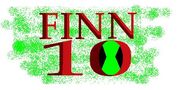 Aliens
Original 10
Additionals
Characters
Episodes
Season 1
Season 2
Meet Me At The End Of The Rainbow
Future Events
3...2...1...
Lightning
Copycat
Freedom
Fused
Fly Like a Butterfly, But Slash Like a Mantisect!
The Death Battle Part 1
The Death Battle Part 2
Movies
Finn 10: Ice King's Invasion (Coming Soon)
Trivia

Finn 10: Ice King's Invasion is expected to come in between seasons 1 and 2.
In an episode in season 2, Finn's omnitrix will malfunction, causing his aliens to fuse.
Finn will get the Ultimatrix in the sequel series.
Fan List
Insert Username Here if you like Finn 10. If you don't like Finn 10, then get outta here!
--

Elm

oo

knows where

you liiiiiiiive

!!!!!!!!!!!

I am AWESOME! So are Unicorns. 02:15, November 8, 2011 (UTC)
Rise, Pelerotas! Destroy the great one! 02:45, November 8, 2011 (UTC)
Grass grows, birds fly, sun shines, and brother, I hurt people. 20:26, November 30, 2011 (UTC)
Yo, I'm Zekeman4!!!!100px 04:10, December 4, 2011 (UTC)
BOOSH. I'm a dino with PANTS. 01:06, December 9, 2011 (UTC)
Three wishes... Number 1, A Real, Working Omnitrix Number Two, To make machines like Gen. Rex Number Three, INFINITY WISHES! 21:29, March 29, 2012 (UTC)
BATTLEBLOCKTHEATER99 (Wall - Blog - Contribs) 19:17, April 15, 2013 (UTC)
Community content is available under
CC-BY-SA
unless otherwise noted.